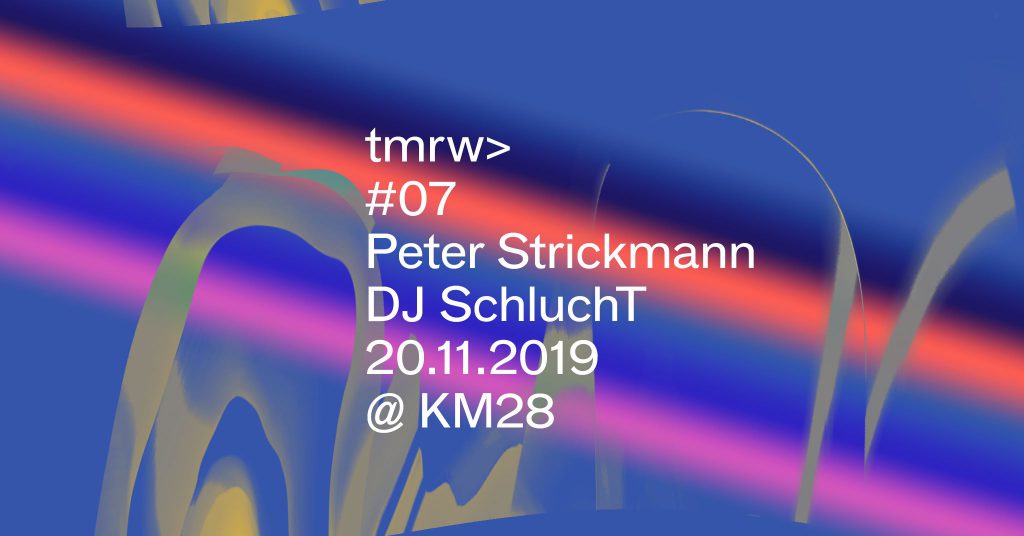 Performance / Concert
20. Nov. 2019
Doors 19:30 / Concert 20:30

I am playing a solo at Berlin's KM28 at the sweet tmrw> concert-series run by Kamil Korolczuk, sharing the evening with extrasuper DJ ShluchT.
Peter Strickmann – objects, winds, feedback
Peter Strickmann is a sound artist and performer using simple and sparse means to encourage and direct the activity of joint listening in various public-, concert- and domestic environments. He uses objects, noise, custom-built wind and feedback techniques, focusing on the vibrant "Ding" and its social, acoustic, and theatrical feedback. Active with groups Spemakh, Pony und Reter, Narval, and Planet Dance Ensemble. Cassette and vinyl releases were published by Rayon, meudiademorte, Ana Ott, SPAM, Stenze Quo.

DJ ShluchT – cassettes, mixer
DJ ShluchT has worked at DIYChurch.org as an unpaid intern for more than 10 years. He made a name for himself through bad social behavior online and in real life but also through his naive ghost coding and tape looping. His sets are very eclectic: drug referential stoner logic reflecting on movies without watching them and basically it always sounds the same, or as one of his critics said, like "classic intuitive wrongfootedness". When he is not DJing, radioing, or helping out at West Germany, ShluchT likes to sit in his virtual bay and watch his yachts. It's little known, but he runs a virtual yacht club where he shares his enthusiasm for underwater landscape painting and networked waves and content- management systems. He has also released various mix tapes and audio works.
TMRW> is a concert series
that explores work related to tape, including performances, presentations of recordings, and live tape sets, curated by Kamil Korolczuk of tmrw> cassette label.
KM 28
Karl-Marx-Str 28
12043 Berlin

tmrwlabel.org/concerts