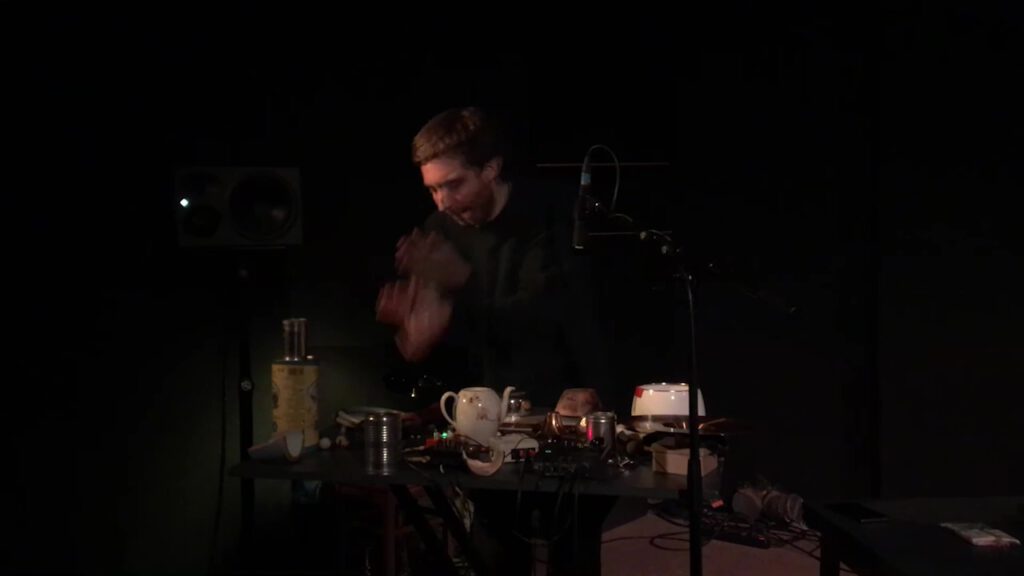 Peter Strickmann
Through the use of radically simple and sparse means, I aim to reveal and reward the multiple listening habits that evolve from daily routine and sudden surprise. By focusing on the vibrant "Ding" and its social, acoustic and theatrical feedback I create joint listening environments in situ, in promptu, in echt.
I create lo-fi kinetic arrangements for exhibitions and employ a set of found objects, custom-built windinstruments, percussiontools and feedback manipulation when performing solo or with diverse noise- and performance-groups.
~
I enjoyed studying Audiovisual Art/Sound Art and Public Art at Hochschule der Bildenden Künste Saar, Saarbrücken and graduated as Meisterschüler of Prof. Christina Kubisch in 2013.
I performed on festivals/series like Seanaps Festival Leipzig, DRiFT! Festival Kyiv Berlin, audiograft festival Oxford, Musikfestival Bern, Delta Wave Antwerpen, blurred edges Hamburg, tmrw Berlin, Shiny Toys 2019 Mülheim, Troglobatem Festival Stuttgart, Ready Making #4 Berlin , Econore Noisefest Mönchengladbach, klangstaetten stadtklaenge Braunschweig, Anachronism Bremen/Hamburg, Notstrom Nürnberg, Sans Titre Strasbourg, Sonopol Hörbar Hamburg, Holo Sounds #5, …
Places where I exhibited my work include: zeitraumexit Mannheim, Stadtgalerie Saarbrücken, Staatliche Kunsthalle Baden-Baden, FFT Forum Freies Theater Düsseldorf, Urbane Künste Ruhr, Kunstmuseum Stuttgart, Titanik Galleria Turku, Saarländische Galerie Berlin, Prima Kunst Kiel, IKOB Museum für Zeitgenössische Kunst Eupen, konnektor Forum für Künste Hannover and Bundeskunsthalle Bonn, amomgst many others.
Labels that published some of my solo-, duo- or group sounds on cassettes and vinyl are: Rayon (UK), meudiademorte (D), Stenze Quo (NL), SPAM (D), Ana Ott (D), econore (D), Dazy&Holy (D).
I am running the Schnarcharchiv (snore archive) since 2009 and the miniature audio-netlabel Klappkart since 2021. I curated various concert series and spaces in NRW, Saarbrücken and Berlin between 2004 and 2022, and was busy with Neuer Saarbrücker Kunstverein until 2016.
Born in 1983 in NRW (Ger), I am now living in Berlin.
~
Contact
e-mail:
contact[at]peterstrickmann[.]info
Studio adress:
Peter Strickmann / Atelierhaus Adlershof
Hans-Schmidt-Str. 4
D-12489 Berlin
~
~
Bio
*1983 in Würselen (Germany)
since 2005 performing noise with various groups and solo
2004 – 2009 member of artistgroup ZgS, running Kunstraum Mülheim
since 2009 conducting the Schnarcharchiv (Snoringsound Archive)
2010 initiating and running the art- and projectspace besenkammer, Saarbrücken
2010 – 2016 active with Neuer Saarbrücker Kunstverein e.V.
2010 founding of SSEA Society for a Sonic Enrichment of the Air
since 2012 co-running of ismellpainter
since 2014 performing with Planet Dance Ensemble
~
Education
2014 Artistic Research In Sound with Prof. Andreas Oldörp, HBKsaar
2014 Meisterschüler with Prof. Christina Kubisch
2009-13 Studies Public Art (Prof. Georg Winter), Academy of Fine Arts Saarbrücken (Ger)
2008-13 Studies Audiovisual Art (Prof. Christina Kubisch), Academy of Fine Arts Saarbrücken (Ger)
2003-04 Studies Philosophy and Social Sciences, University Duisburg-Essen (Ger)
~
Grants / Residencies
2021 Working grant, Stiftung Kulturwerk der VG Bild-Kunst, Neustart Kultur
2020 Stiftung Kunstfonds, Neustart Kultur
2019 Residency, Gaststipendium, Künstlerhaus Bremen
2018 Residency, Künstlerhaus Lauenburg
2018 Travel grant for Titanik AiR, Goethe Institut Finland
2018 Residency, Titanik AiR sound art, with Evgenija Wassilew, Turku Finland
2017 Project grant for Schnarcharchiv, IKF / ecce, Ministerium für Wissenschaft und Kultur des Landes NRW
2016 Research grant for pututuuuut Peru, Ruhr Residence GO, Kunst Vereine Ruhr
2016 Residency, Künstlerhaus Schloss Wiepersdorf
2016 Residency, Braunschweig PROJECTS sound art
2015 Short list, Robert Schuman Preis 2015
2015 Exhibition award, statements, with Susanne Kocks, Stadtgalerie Saarbrücken
2014/2015 Studio grant, Saarländisches Künstlerhaus
2014 Residency, artmix8 – german-luxembourg artist exchange program
2012 Stipend for Vietnam Fieldtrip, Saarland-Stipendium, StudienStiftung Saar
2007 Award, Förderpreis zum Ruhrpreis für Kunst und Wissenschaft der Stadt Mülheim/Ruhr with Gruppe ZgS/Kunstraum Mülheim
~
Related

Schnarcharchiv (audio collection)
Klappkart (music label / audio publishing)
Peter Strickmann ist verantwortlich für den Inhalt dieser Seiten und Inhaber aller Bildrechte, wenn nicht anders angegeben. Eine Vervielfältigung von Informationen oder Daten, besonders die Verwendung von Bildmaterial, Texten und Audios, auch in Teilen, ist ohne vorherige schriftliche Zustimmung des Urhebers nicht zulässig. Haftungshinweis: Peter Strickmann übernimmt keine Haftung für die Inhalte externer Links. Für den Inhalt der verlinkten Seiten sind ausschließlich ihre Betreiber*innen verantwortlich.