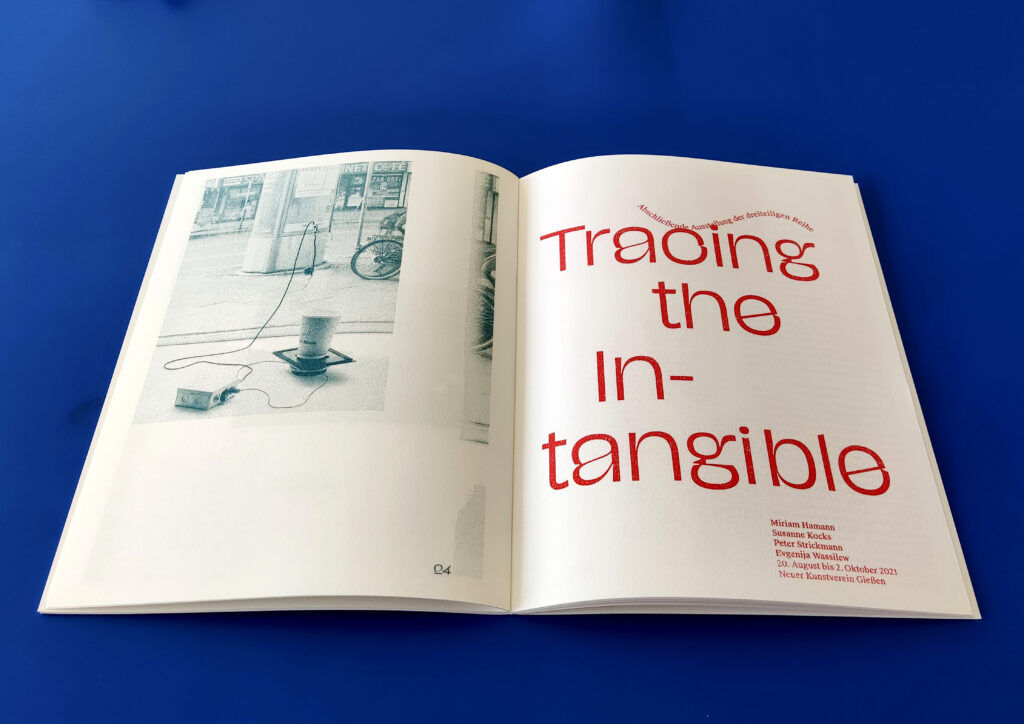 Happy Release Day – Tracing the Intangible – print edition
~~~~~
We are more than happy to finally anounce that this beauty is now available. It comes as the final 4-colour risoprinted summary to our last years' exhibition series Tracing the Intangible, that took place in Berlin at Zwitschermaschine and Gießen at Neuer Kunstverein Gießen.
Including texts by Lintu Dreba, perfectly layouted by Muriel Serf of MM,M and printed with the dear risomashine at bbk kulturwerk Druckwerkstatt in Berlin.
You can order via email: contact[ät]peterstrickmann[.]info. It's €7,- plus shipping.
Cheers & Juhuuu!
~~~~~
D E T A I L S :
Tracing The Intangible
by Miriam Hamann, Susanne Kocks, Peter Strickmann, Evgenija Wassilew
38 pages, 18x24cm
Risoprint in 4 colours
Texts: Lintu Dreba
Layout: Muriel Serf / www.mmm.do
Fonts: Suisse Works, Suisse Intl., NaN Jaune
Paper: Metapaper, Warmwhite Extrarough, 120gr/m² and 175gr/m²
Edition: 150, numbered
Dearest thanks go out to Stephan Kruhl at Zwitschermaschine, Caroline Streck and team at Neuer Kunstverein Gießen, Jehudit Yinhar at Druckwerkstatt im bbk kulturwerk Berlin, Lintu Dreba and Muriel Serf.
~~~~~
The three exhibitions featured in this broshure were supported by Bundesministerium für Kunst, Kultur, Öffentlicher Dienst und Sport der Republik Österreich, Kulturamt der Universitätsstadt Gießen and Gießener Kulturstiftung:
floating glass, restless minds & liquid lights
Miriam Hamann, Evgenija Wassilew
1. – 8. April 2021
@ Zwitschermaschine, Berlin
from passing to passed
Susanne Kocks, Peter Strickmann
12. – 18. April 2021
@ Zwitschermaschine, Berlin
Tracing the Intangible
Miriam Hamann, Susanne Kocks, Peter Strickmann, Evgenija Wassilew
20. August – 2. Oktober 2021
@ Neuer Kunstverein Gießen
~~~~~
www.miriamhamann.com/
www.susannekocks.com/
www.evgenija-wassilew.com/
www.kunstverein-giessen.de
www.zwitschermaschine-berlin.de/