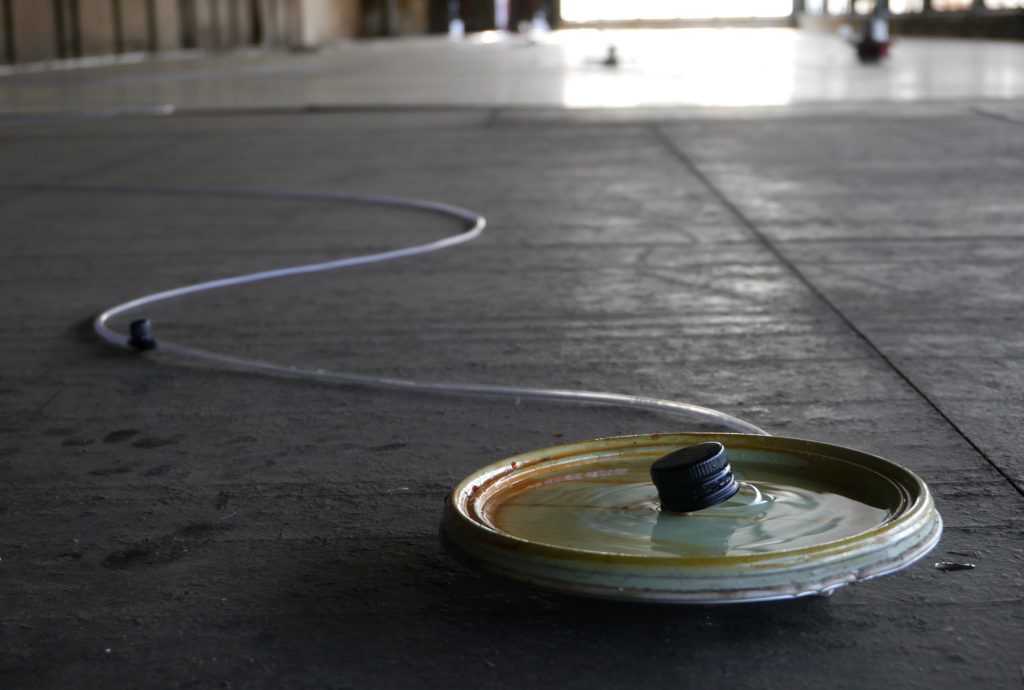 Installation / Performance
09/09 – 21/10 2018
Opening: 09/09, 15:00
My 6-months residency at Künstlerhaus Lauenburg is slowly fading out. As a final event, the three Bildende Kunst residents are showing their work in an exhibition.
Katarína Dubovská, Harald Popp are showing installation and photo-works in the Künstlerhaus gallery and bar.
Peter Strickmann I am presenting my installation Klack Ding – not at the Künstlerhaus, but at the former impressive Schnürboden of the still very busy Hitzler Werft / shipyard in Lauenburg. This whole space is really worth a visit. I installed a field of percussive details confrontig this heavy industry scenery.
Performance, 09/09, 16:00 As part of the opening, I will perform some sounds at the Schnürboden using my sound-tools, a bunch of found shipyard objects, feedback and space.
The Künstlerhaus is open during its regular opening hours. The Schnürboden will only be open to the public on a few dates – see below, or for updates, visit my calendar.
Künstlerhaus Lauenburg
Elbstraße 54
21481 Lauenburg/Elbe
Opening hours:
Künstlerhaus Mon + Tue 11:00 – 17:00 / Sat + Sun 15:00 – 17:00
Schnürboden Hitzler Werft, Südwerft/gegenüber Bhf Lauenburg: 9.9. ab 16:00 / 16.9. 15:00 – 17:00 / 23.9. 15:00 – 17:00 / 29.9. 15:00 – 17:00