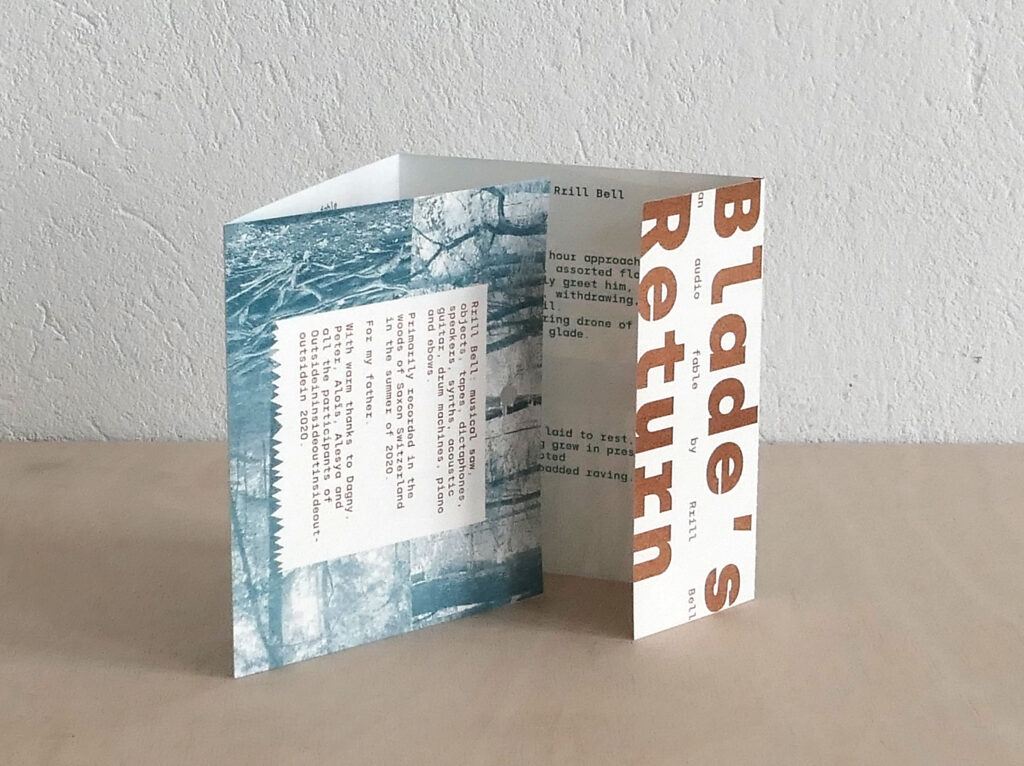 Dear world.
Some weeks ago the first Klappkart by Rrill Bell released and it is an amazing piece of sound and narration. Stream it online or get your print from me (or soon aswell in some selected book- and recordshops) – since:
Klappkart is my own new little netlabel, where I publish digital audios, which are wrapped in carefully manufactured print-editions. some kind of a physical-digital hybrid highlighting exploratory approaches in soundmaking and listening.
Here, intruducing Berlin based cassette-magician and tape-manipulator Rrill Bell, who, for this release "Blade's Return", made use of a singing saw, many old cassette recordings, voice-overs and even guitar playing, which is not the thing you would expect from him. What you would expect is a massive depths in sound, a playful richness in detail and a trustfull use of timeing. It's is all in there, as usual. But this time coming as a radiophonic narrative music, as an audio fable, as the story of Blade, a handsaw who undertakes a journey back to the forest where he renounced cutting, to sing a song of regret and seek redemption.
Please get in touch or use the Bandcamp page in case you'd like to order one of the prints (€3,-), streaming the audio (free) or downloading (name your price).
www.klappkart.bandcamp.com
All the related info like interviews, radiostreams/mixes and artistlinks you find on the Klappkart Linktree:
I hope you enjoy!
---
Print edition of Klappkart #1 / Blade's Return
Comes with a download-code of the digital audio release.
2-colour riso print
Closed format: 110x125mm / Unfolded format: 380x125mm
Paper: 175g, Metapaper, Warmwhite Extrarough
Typeface: Silka Mono, by atipo foundry
Cover photos: Wei Kang Beh (Akousmatik Bush, Plänterwald Berlin)
Layout: Peter Strickmann
Print: Drucken3000, Berlin
Featuring narrative texts from the album (read below here)
Limited + numbered edition of 200
---
BLADE'S RETURN
–
an audio fable
–
Opening Theme
This is the story of Blade, a fine-crafted handsaw,
former soldier of fortune in the timber wars,
who renounced mercenary extraction for The Man,
before retiring to the solitude of a shack on the plains.
This is the story of Blade's return to the forest where he gave up cutting, to sing a song of regret and seek redemption.
I. The Return
The trek in is a ravine fever dream
of dilated time and lurking flashbacks…
II. Lament
And here at last was the clearing,
resplendent in the dusk, sweet darkness falling.
All night Blade sat and sang, he wailed, his voice doubled, tripled.
He rosined his bow with the sap of the vanquished,
and asked that his wrongs might be righted.
III. Atonement
And lo
as the witching hour approached
the forest folk, assorted flora,
emerged to warmly greet him,
then whispering, withdrawing,
they held council.
Soon the flickering drone of forgiveness
filled the hazy glade.
IV. Release
Past transgressions laid to rest,
a twitching, pulsing grew in presence,
till all around erupted
into joyful, mossy-padded raving.
---

Rrill Bell's latest album, Blade's Return, the inaugural release on Klappkart, is an audio fable, a radiophonic narrative work relating the inner and outer reality of the handsaw Blade as he undertakes a journey back to the forest where he renounced cutting, to sing a song of regret and seek redemption. At the heart of the piece, which expands on the artist's unique personal approach to the cassette tape as a highly malleable medium for sound production and deepens his previous practice of "augmented reality" and embedded location recording, is an in-situ exploration of the "singing" saw as an expressive sound source for experimental music.
Blade's Return was conceived and primarily recorded during a two-week residency (sponsored by the SHAPE platform for emerging artists) in the woods of Saxon Switzerland, on the Czech/German border, in the summer of 2020.
Technically, the piece primarily consists of layered recordings of ad hoc tape/dictaphone installations made in the national park near Stadt Wehlen in southeastern Germany. Subtle, highly developed spatial recording and re-amping techniques, combined with meticulous assembly, editing and layering in post-production, yield surreal soundscapes of great depth and detail.
Musically, the hybrid piece plays with a range of inspirations and associations, from the lo-fi guitar-to-cassette-four-track music of Ash Bowie and Emil Amos to Rolf Julius' outdoor interventions and beyond. Unabashedly "cinema for the ears", Blade's Return is equally inspired by the worlds of film and animation, from the classic Czech cartoon series Krtek (The Mole) to the psychedelic quest films and new westerns of the 1960s and '70s to works like Fischli & Weiss' Der Rechte Weg.
Born and raised in the US-American Rust Belt, and a resident of Germany for over two decades, Rrill Bell draws on the formative inspirations of radical scratch culture, Cagean thought, harmolodics, musique concréte, and various other strains of experimental music practice. Over the past decade, his work has also expanded to include various hybrid approaches to location recording, augmented reality, composition and audio narrative.
Klappkart is a new Berlin-based label that intends to release digital audio works from artists of various fields who share an exploratory approach to listening, soundmaking and storytelling. Each digital release is published in combination with a poster/booklet print edition. Klappkart #1, Blade's Return, is available as a beautiful two-color riso-print booklet featuring narrative texts from the piece and accompanied by a download code, or as a stand-alone digital download here on Bandcamp.
Rrill Bell's work has previously been released by the Elevator Bath, Gertrude Tapes, Weird Forest and Denovali labels, among others.
rrill-bell.bandcamp.com
soundcloud.com/rrill-bell
www.youtube.com/user/jimpermanent
the-preterite.com  
---
Credits
:
Rrill Bell: musical saw, objects, tapes, dictaphones, speakers, synths, drum machines, acoustic guitar, piano and ebows
Primarily recorded in the woods of Saxon Switzerland in the summer of 2020.
The very ending of part one (The Return), includes a sampled, re-amped fragment of a concert recording from May 2007, featuring Rrill Bell and Martin Juhls on electronics along with Serge Corteyn (guitar) and Oliver Siegel (accordeon).
Part four (Release) features excerpts from an informal outdoor sound improvisation by the participants of the 2020 Outsideininsideoutinsideoutoutsidein Lab residency.
A previous, edited version of this piece was commissioned and broadcast by musikprotokoll festival / ORF, in the scope of the SHAPE platform for emerging artists.
Cover photos by Wei Kang Beh.
Cover design and layout by Peter Strickmann.
Mastered by James Plotkin.
For my father.
With warm thanks to Dagny, Peter, Aloïs, Alesya and all the participants of Outsideininsideoutinsideoutoutsidein 2020.